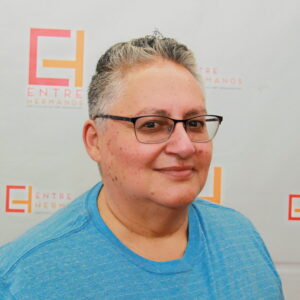 Martha Zuniga,
the Deputy Director of Entre Hermanos. She has worked there for more than 10 years, first as a volunteer, then as a Medical Case Manager, and Prevention & Care Program Manager. Her main goal at Entre Hermanos, and in her life, is to support, educate, and advocate for the people affected by HIV, especially those from minority communities. Martha was chosen by Entre Hermanos for her role as one of the founders of the organization. Like Joel, she has been in the community and part of Entre Hermanos since the beginning and is fondly recognized by all.
About the nominating organization:
Entre Hermanos came into being by the initiative of a group of gay, lesbian, bisexual, and transgender Latinos/as that saw the need for social, educational, and health support services in their community in the spring of 1991. By December of 1992, the group was organized and carried out various activities to raise funds to cover its operating costs. These activities were done in cooperation with the Washington Latino AIDS Coalition, a group affiliated with People of Color against AIDS (POCAAN).
In April of 1993, the group functioned independently, directing several activities for the community. That year, Entre Hermanos affiliated itself with POCAAN, a nonprofit organization the offers prevention and educational services against HIV/AIDS for people of color. In May of the same year, we held our first contest to elect a Latina Queen. That same summer, we incorporated a lesbian group and participated for the first time in Seattle's LGBT Pride Parade.
Toward the end of 2001, we received a charter by the State of Washington to operate as a nonprofit organization, through the corporate status offered by IRS Section 501(C)3. Since then, we continue to grow, thanks to our personnel, Board of Directors, volunteer corps, and educational and recreational activities. Looking forward to our 27th year of service to the Latino LGBTQ community, we continue marching into the future, always progressing and offering more services far and wide to Latinos in the State of Washington.