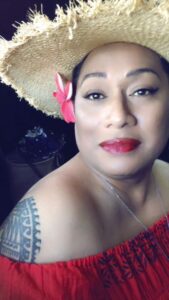 Malie Tiare Chanel, who was chosen by Utopia. Born in Fagatogo, American Samoa, Malie was raised in Saleufi, Apia & Seattle. Her passion stems from the cultural upbringing in her village setting, as well as values instilled in her by her grandparents. There were always village events that required participation or contributions. She was taught about sharing with her neighbors, inviting passersby for meals, or helping distribute food to families in her village surroundings during any environmental or health disasters. It became a natural thing for her to do back home. At a young age, she became accustomed to giving as well as honoring everyone else in unselfish cultural practices.
She is currently a Wellness Navigator and Cultural Weaver: Navigating resources and services for her Pacific Island Community. She also creates social space to assist and support Pacific Islander elders. She is a Community Organizer, Community Outreach on Sexual Assault & Domestic Violence. She has various volunteer roles; Lifelong AIDS, Pageantry Organizer for LGBT Community, Samoan Cultural Day Committee Member, Pasifika Island Fashion Show organizer, and a Meals On Wheels Volunteer. She is also the former Case Manager for Asian Counseling and Referral Service and Family Homeless Feeding Project.
Malie's other interests include gospel music, cultural arts, music and dancing, choir director and church outreach organizer and dance choreographer.
"Ua so'o le upega" – the nets are interwoven – our strength is in community
About the nominating organization:
UTOPIA WA (United Territories of Pacific Islanders Alliance – WA) is a Queer and Trans people of color led, grassroots born out of the struggles, strengths and resilience of the Queer and Trans Pacific Islander community in South King County.