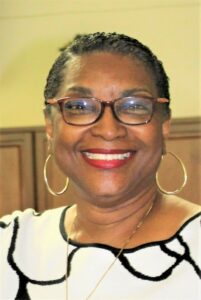 Lynda Greene, the Executive Director at the Southeast Seattle Senior Center located in one of the most diverse zip codes in the nation, 98118.
Lynda has been a pioneering, proactive, and powerful ally for the LGBTQ community. The Southeast Seattle Senior Center is celebrating over 60 years of providing services, activities, and support to promote self-sufficient and fulfilling lives for aging adults in our multi-cultural community.
As the Executive Director, Lynda is responsible for the development and implementation of the annual and long-term fundraising and strategic plan, program planning, implementation, monitoring and evaluation, budgeting and financial monitoring, management of people and volunteers, oversight of facilities and buildings, community engagement and equity and inclusion programs. Additionally, Lynda is responsible for providing direction to the Board of Directors in identifying, cultivating, and soliciting donors to enhance the sustainability of the organization.
Prior to joining the SESSC, 12 years ago, Lynda held various management and leadership positions such as the Resource Development Manager for a 100-year-old nonprofit in Seattle. She also enjoyed her tenure as Director of Sales for a Seattle boutique hotel in downtown Seattle. And one of her earlier careers included ownership of a Bridal and Wedding Salon in downtown Bellevue. Lynda says, "I have had the pleasure of working in many industries including the airline industry, manufacturing industry, and the hospitality industry. By far, my greatest love and passion is working with seniors in our community!"
About the nominating organization:
ALISS (Aging Lesbians in South Seattle) is a group of lesbians, ranging in age from 30's to 80's, some single, some partnered, working or retired. Their vibrant community includes day care teachers, chefs, therapists, house painters, hospice nurses, university professors, janitors, and even a dentist. Through the years they have become a strong and supportive community to one another with great dances, concerts, fundraisers when needed for members or for others outside our group, protests, illness, as well as support in death and dying.
They meet 3 times a month at the Southeast Senior Center and many of our members have become quite involved in other programs at the Senior Center. In addition, their facilitator has welcomed lesbians from other areas of the city to our meetings and encouraged them to start similar programs in their local Senior Center, so there are now 4 Senior Centers who has active lesbian groups in their neighborhoods.