GenPride Newsletter September 16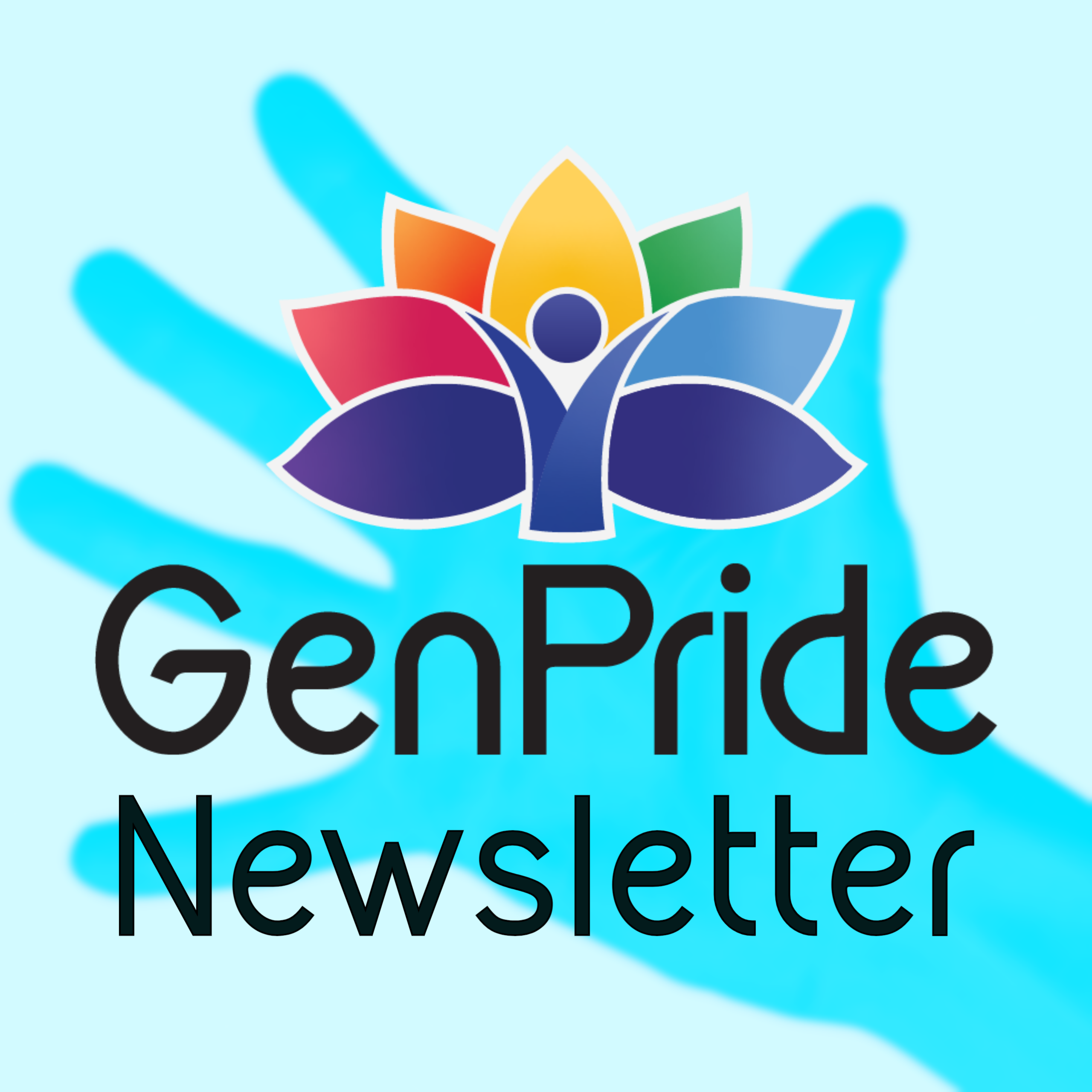 Community Programming:

GenPride Writers Lab resumes!
CPR & First Aid Class for Caregivers [in-person]
LGBTQIA+ Support Group for Alzheimer's & Dementia Caregivers
GenPride's Movie Club kicks off with 'PRIDE – the Movie'
Do More, Feel Better study seeks participants
Qigong resumes in October
Apply to GenPride Advisory Circle (GPAC)

Services and Information:

What You Should Know About Monkeypox
Wellness with Pride: COVID-19 and LGBTQ+ Communities
Calling all authors! Join us for the Fall series of GenPride's twice monthly Writers Lab, starting September 13.

If you have already taken some writing classes, such as GenPride's Writers Workshop with Ingrid Ricks, this FREE twice-a-month practice lab might be perfect for you. The Writers Lab is a mutual support group for LGBTQIA+ writers who want accountability, structure, and a 'lab space' to test out written pieces, refine ideas, and build on your results. You'll be expected to be an active writer: meeting deadlines, reading your written work, and gathering feedback to then incorporate into your writings for the next session.

The group meets online on the second and fourth Tuesday of the month at 6:30 pm. New members and all writing genres are welcome. Write now!

2nd & 4th Tuesdays | 6:30 – 8:30 pm

Starting Sept 13
First Aid & CPR Class for Caregivers [in-person]

Are you providing care for a loved one, and would like to feel more prepared in case of an emergency? Join GenPride for a free, in-person, First Aid and CPR class for Caregivers. Learn simple and basic steps for handling an emergency, including the use of an AED (automated external defibrillator).

When: Wednesday Sept 28th from 1:00 pm – 4:00 pm

Where: 1620 12th Ave Building, 2nd floor, Seattle, WA 98122

Registration link: http://genpri.de/cpr-training

This class is offered for free; if you would like to have an official certification card after completing the class, there is a cost of $25 for the card. Scholarships are available.

If you do not have an email or need assistance signing up, please contact us: info@genprideseattle.org or 206-393-3400

Proof of COVID vaccination is required at time of registration

*This class is open to all community members, however due to space constraints, we will prioritize people who identify as caregivers for family and/or friends. 
LGBTQIA+ Support Group for Alzheimer's & Dementia Caregivers

In partnership with the Alzheimer's Association – Washington State chapter, GenPride is offering a free LGBTQIA+ affirming monthly support group for caregivers and folks living with Alzheimer's or dementia.

This free online support group meets the 3rd Tuesday of each month from 6:30 – 8:00 pm. This month the meeting will be on Tuesday September 20th.

To register or learn more, contact the facilitators:

Lionel Wang – 206.854.4776 | lionel.s.wang@gmail.com

Tiffany Suscheck – 614.719.9692 | tiffany@suscheck.com
Based on an extraordinary true story, PRIDE – the Movie is a funny & heartwarming kick-off to GenPride's monthly Movie Club. Come join us for this free online screening, presented by Seattle's Scarecrow Video, followed by a lively after-movie discussion.




It's the summer of 1984. In the U.K., Margaret Thatcher is in power and the National Union of Mineworkers is on strike, prompting a London-based group of gay and lesbian activists to raise money to support the strikers' families. At first rebuffed by the union, the group decides to drive to a tiny mining village in Wales in order to make their cash donation in-person.

Friday, Sept 23 | 6:00 – 8:30 pm
GenPride is partnering with the University of Washington to find better ways to help seniors experiencing depression. We're looking for participants interested in a 9-week program that is based on research showing that increasing your participation in pleasurable and rewarding activities can lead to improvement in your depressive symptoms.

Due to COVID-19, the study is being completed via telephone or video chat.

If you are eligible to participate, you will receive $130 over the course of the program.

For more information contact the study team at (206) 616-2129 or dmfb@uw.edu
GenPride has wrapped up our summer Qigong series.

But fear not! We will be resuming our online Qigong classes in October, with instructor Kimberly Ivy, founder of Seattle's Embrace the Moon Tai Chi and Qigong.

Stay tuned to this newsletter for all the details…coming soon!
Apply to GenPride Advisory Circle (GPAC)

The GenPride Advisory Circle (GPAC) is being formed to ensure that GenPride's senior center programming is responsive to the diverse needs within our LGBTQIA+ communities.

As we prepare to open Pride Place and the new GenPride Senior Community Center in 2023, the GPAC will advise the organization on community engagement, outreach and support for an equitable housing application process, and programming for older adults.

The GPAC will be founded on the principles of anti-racist community leadership, openness, transparency, communication, and accountability to its members.

We would love for you to consider joining us in this important community role or recommend someone from the community who you think might be interested. More information and the application can be found here https://genprideseattle.org/gpac-app/
What you should know about Monkeypox

But others can become infected, regardless of age, sexual orientation or gender identity.

Poz.com offers tips for safer sex in the time of monkeypox.

A limited supply of monkeypox vaccine is available locally, with more doses promised for later this Fall.
This nationwide project was created to assess the impact of the COVID-19 pandemic on the social, economic, and health inequities and resources of LGBTQ+ adults. Twelve randomly selected individuals, who complete the survey and a participation form, will be awarded a gift card for $150.




Are you a lesbian, gay, bisexual, trans, queer, non-binary, or sexual or gender diverse adult age 49 to 57 (birth year 1965-1971) residing in the United States?

We need your help with a ground-breaking project, Wellness with Pride: COVID-19 and LGBTQ+ Communities. We are partnering with Generations Aging with Pride to assess the social, economic, and health inequities and resources of LGBTQ+ adults and the impact of the COVID-19 pandemic on these inequities.

Please visit here to complete a confidential and anonymous online questionnaire.

By completing a participation form, you are eligible for a raffle drawing awarding a $150.00 Gift Certificate to 12 randomly selected individuals. Please keep in mind your participation in the project is completely voluntary.

Individuals who participate in Wellness with Pride, and choose to also share their interest in being contacted for future research opportunities, and have a birthday that falls between the years 1965 – 1971 will be invited to participate as a member of a new group of the Aging with Pride: National Health, Aging, Sexuality/Gender (NHAS) Study.

If you have any questions about the project, please contact us at USPride@uw.edu.
Help us learn more about our community

If you have not yet done so, please consider submitting your demographic information to GenPride. It's completely optional and all information is used for city and county summary reporting metrics. Demographic information assists us in understanding the diversity of our clients and creating programming to better serve community members like you.
| | All GenPride Programming is free for the community, with support and funding from the City of Seattle | |
| --- | --- | --- |