5 Races to Help You Celebrate Pride Month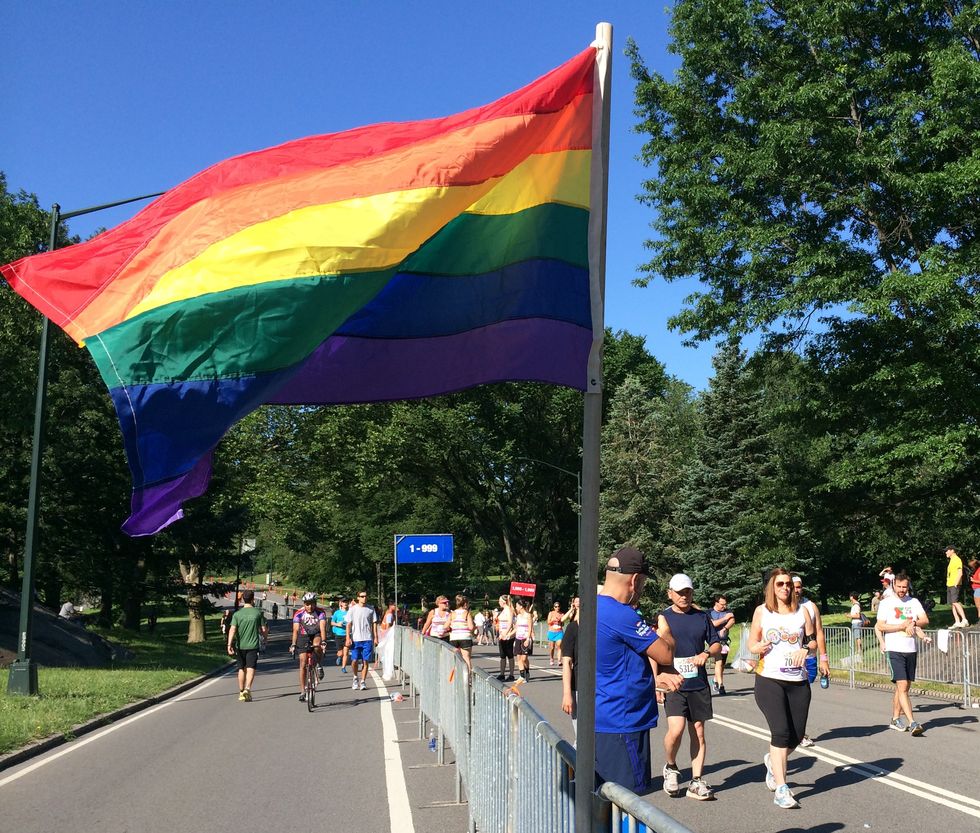 In honor of pride month, here are some of the best races you can run this summer and fall.
Each year I participated in the Pride Run, it featured high-energy fields, festive costumes, and a relatively late start that helpfully accommodates Friday night shenanigans. In addition to a wider section of the LGBTQ community and our allies, families, and rainbow-festooned pets, it's a great chance to see all the fiercely competitive local crews in action. The North Brooklyn runners, the Reservoir Dogs, the Dashing Whippets, and of course, the Front Runners–they come from all over the city to race for club points, clad in matching gear like roving street gangs from the movie The Warriors.
I've never lived in NYC, but I first started running with the Portland, Ore., branch of the Front Runners many years ago—back when my connection to any broader queer community was solely through the bar scene, and running a four-mile race like the Pride Run would have seemed unthinkably tough. But the course is fast, and the vibe is more party-like than competitive.
Spectators and tourists line the edge of the course, and the corrals are so well organized by projected finish time that there never seems to be any crowding after the first climb. It's hot, but water stops mark every mile, and sprinklers are set up in the back half of the loop to cool off sweaty runners. Views of the Manhattan skyline peek through the sun-protecting tree cover. After looping back to the start, runners can expect to cross the finish line to the synchronized support of Cheer New York.
This year's will mark the 41st annual Pride Run, while sign-ups for this year's race has come to an end, you can always show up to support the runners as they make it through Central Park. But, if you're not able to participate or attend, here is a list of other runs happening across the nation that you can sign up for in celebration of pride month.
---
Location: New York, New York
Distance: 4 miles
Date: Saturday, June 25th, 2022
REGISTRATION
Held every year to kick off Pride weekend, the Pride Run is a four-mile rolling loop through Central Park with a celebratory vibe and a diverse, inclusive field that suits a weekend known for being equal parts party and protest. The Front Runners, an LGBTQ multisport club, and the New York Road Runners team up to put on the race, which annually raises money for a charity of the organizations' choosing (this year's event benefited the Sylvia's Place, the starting point for New York City's LGBTQI youth in crisis). Like the Pride parade itself, the run began as a smaller event with mostly LGBTQ community participants but has since expanded to the broader NYC community and become a staple of the local calendar. The Pride Run officially started in 1982 with 440 runners but now sells out months in advance.
---
Location: Brooklyn, New York
Distance: 5K
Date: Saturday, June 11th, 2022
REGISTRATION
This annual 5k will take place in Prospect Park, Brooklyn at 10 am on Saturday. Runners will venture through out the park, and receive a pride t-shirt as well as a Brooklyn Pride finishers medal upon completing the course. Although sign-ups for this race are currently closed, you can still attend the race and cheer runners on this weekend. Also, whether you're planning to attend either race in New York City this month, consider leave earlier than expected in the morning, and plan to relax and hang out in the park for a bit after crossing the finish line. The subway lines nearest the start can get pretty crowded with sweaty runners immediately before and after the race.
---
Location: Palm Springs, California or virtually
Host: Palm Springs Front Runners
Distance: 5k
Date: Friday, November 4th, to Sunday, November 6th, 2022
REGISTRATION
Unlike other races on this list, the Palm Springs pride run is held in person on Saturday, November 5th. Runners can expect to run through out the historic neighborhood of Old Palmas on mostly flat and paved streets. If you're unable to attend the race in person, you can opt-in to participate virtually, and complete the 5k run on a course of your choice anytime between Friday, November 4th and Saturday November 6th.
---
Location: Virtually
Host: Stonewall Columbus
Distance: 5k
Date: Entire month of June
REGISTRATION
This year marks the 3rd annual Pride 5k hosted by Stonewall Columbus. The beauty of this race is that it can happen anywhere, anytime in June and registration is currently open.
---
Location: Seattle, Washington or virtually
Host: Seattle Front Runners
Distance: 4k and 8k
Date: Friday, June 24th, to Monday, June 27th, 2022
REGISTRATION
This is the 40th annual pride run and walk hosted by the Seattle Front Runners to benefit Peer Seattle, an emotional support and development program that helps those impacted by addiction, mental health and or HIV/AIDS, and the GenPride senior community center. On Saturday, June 25th runners participating in the in person event can expect to run along the perimeter of Seward Park—those completing the 4k will complete one lap and two laps for those completing the 8k run. This course also has a virtual option that must be completed all in one activity on any course at any time between Friday, June 24th and Monday, June 25th.