Volunteer Roles
GenPride Volunteers and Volunteer Roles
We are in the process of growing our Volunteer Program and have a few opportunities for onboarded volunteers both in-person as well as online.
If any of the below opportunities peak your interest, please fill out a (click here)–>Volunteer Application, and note the name of the volunteer role you are interested in.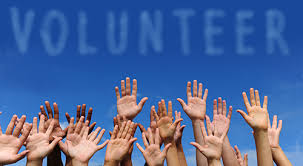 1) Front Desk Crew
This position is especially fitting for people who want to connect and be active in the aging community, those looking to keep their administrative and social skills sharp, and anyone looking to give back to their community.
GenPride Front Desk Volunteers will:
Oversee front desk (answer phones, field questions).
Make appointments for free social services, classes, and workshops.
Connect community members with valuable information and resources.
Greet participants.
Perform light administrative duties as assigned.
This is a public contact position. Time commitment will include 3-hour shifts, once/week or as available (regular volunteers will schedule weekly shifts in advance).
Front desk shifts will be Mon-Thurs, (10 am to 1 pm), (12 pm to 3 pm). (shifts may change as office hours change). These shifts will begin as soon as volunteers are onboarded and ready (prior to moving into Pride Place – late August, early Sept of 2023).
Depending on how many shifts are worked in a month, a volunteer can range from three to twelve hours per month.
On-the-job training will be provided. Shifts will start at the current location: 1620 12th Ave, #203.
By the end of August, GenPride efforts will move towards the new Pride Place location: 1521 Broadway Ave with adaptation of the Front Desk Volunteer Role as required for the new location.
* Are you not able to commit to a regular weekly shift? Sign up to be a substitute front desk volunteer. You will be trained in advance and called prior to the substitute shift. *
Express your interest here in our online volunteer application: www.genprideseattle.org/volunteer. * Please note in your application your interest in FRONT DESK VOLUNTEER POSITION. (or write: "substitute front desk volunteer")
(WA State Background Check, and paperwork will need to be completed before onboarding / training).
2) Street Team:
Volunteers in this role will assist with promotion of our events and programming initiatives by physically posting materials in public areas like bulletin boards or information kiosks. Qualifications include mobility around Capitol Hill and other Seattle neighborhoods. This may also include mailings that include flyers and GenPride information sent out to senior centers in King County.
We welcome any assistance or ideas in promotional marketing for our community (for example, locations in your neighborhood that are ideal for posting flyers like a library).
If you're interested in this role, please email: info@genprideseattle.org with a note "Street team." We welcome any assistance or ideas in promotional marketing for our community, especially how to reach people without regular access to technology.
3) Online meeting host (zoom):
The Volunteer Online Meeting Host starts a scheduled online program, class, or event for presenters or Instructors who do not have technical knowledge of video conferencing apps.
ZOOM is the current app GenPride uses for all its online programs and events. However, GenPride might test and use other video conferencing or webinar apps in the future.
Requirements:
Have a basic knowledge of Zoom, its Web-based Admin Console, and the features and functions of the Zoom Host and Co-Host roles.
Ability to troubleshoot and suggest ways to improve audio/video quality and/or Internet connection quality is strongly desired.
Must present a professional appearance and a friendly manner
Must be dependable and punctual
Be courteous and personable when dealing with the public
Respect and maintain confidentiality of GenPride volunteers, partners, staff, and donors
Computer skills are desired, but not necessary
More info in the Online Meeting Host Job Description
4) Grant researcher:
Volunteers in this role will assist the development coordinator and deputy directress to locate and assist in grants on behalf of our organization and the new Pride Place Senior Center.
If you're interested in this role, please email: info@genprideseattle.org with a note "Grant Researcher" We welcome any assistance or ideas in finding grants that will help connect resources to our LGBTQIA2S+ COMMUNITY.
5) Senior Companion (through Homage Senior Americorps)
The Homage Senior Companion Program serves older adults who are isolated and/or disabled by providing companionship, transportation, and/or other support (accompany shopping, organizing, lunch buddy, respite support, walking partner).
Benefits include: Receive an hourly tax-free stipend, develop new friendships and provide support to those in your community, and receive monthly training on relevant issues.
Requirements: –> Be 55+ or older and lower-income, be able to serve at least 8 hours/week, including monthly meetings, commit to serve at least one year.
Time commitment: Training will require four 2-hour sessions over 1 month (online or in-person), then participation as a volunteer for 2-3 senior recipients. 8 hours minimum per week (for stipend), and total 12 month commitment.
Email: volunteer@genprideseattle.org for more info. Also, if you know people who are needing in-home assistance for errands, doctor's appointments, and social interaction, please refer them!
6) Do More Feel Better
Do More, Feel Better is a volunteer-led program for individuals 60 and older experiencing depression. The program is based on research showing that increased participation in pleasurable and rewarding activities can help lower depressive symptoms. Clients enrolled in the Do More, Feel Better program meet weekly for 9 consecutive weeks with a certified volunteer coach.
Volunteers will receive extensive training on recognizing depression in older adults, talking with depressed individuals regarding their symptoms, and leading them through a self-management program. Volunteers who meet standards may then begin leading the Do More, Feel Better program with participants under supervision.
Requirements: –> 60 years or older, possess good interpersonal skills, English speaking, and consistent reliable technology and connectivity.
Time commitment: Four 2-hour sessions over 1 month, then participation as a mental health lay volunteer for sessions of 12 weeks for up to one-year.
7) Outreach and Tabling Event Support ** (update)
Volunteers in this role provide information and resources in the local community at events by answering questions and helping to spread the mission of GenPride. Volunteers should be interested in learning about our events and services, as well as Pride Place, so that they may speak about them confidently.
** June 2023 – We are hosting Pride Month tabling and outreach efforts to increase visibility about Pride Place applications opening mid-June (www.prideplace.org), Information and Assistance, and Program offerings.
To sign up for June Pride Month tabling shifts (or later in the summer, we'll be attending other Pride Festivals), please sign up through this link:
Let us know if you're also interested in assisting with trans­portation and set up/ tear down of event gear. (specifically, somebody with a van or truck who can help transport gear)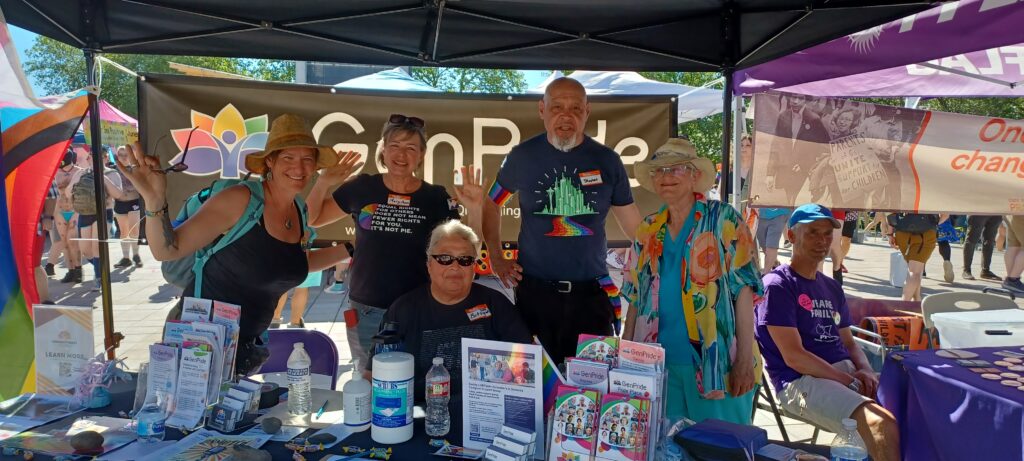 7) Administrative Assistance and/or Data Entry
Volunteers in this role will assist in a various range of administrative and office support tasks. Some of these tasks may include data entry into our database, however — this can also extend to our website directory and event calendar. This could be done in-office or at home, depending on the volunteer's technology access.
In-office work could be described the Office Volunteer Role Description.
Other roles could include video editors, graphic designers, and data entry assistants.

8) Volunteer Movie Club Host
Volunteers in this role will help host the once/month online "At the Movies" event and help facilitate the conversation afterward
Requirements: be technologically adept to troubleshoot, have reliable wi-fi access, and be able to facilitate a conversation around sometimes triggering or sensitive topics. Movie Club Host description in full detail here: GenPride Volunteer Movie Host.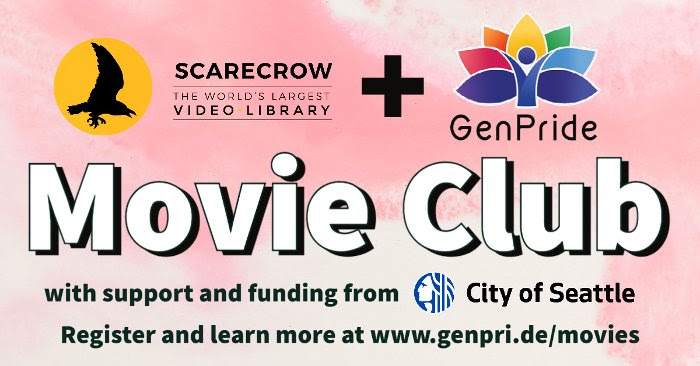 9) Have a special skill?
Volunteers tend to have special skills that we may not always have the bandwidth for, however that doesn't mean we don't want to hear from you! Let us know if there's a special skill or talent you have if you think it could benefit our community and our organization!

10) Volunteer Instructor
Volunteers in this role will host online (or if suitable for the activity, eventually in-person) classes as the volunteer's schedule allows.
Do you have an idea for a program that you are qualified to teach / facilitate / lead? (for example, A Mindfulness Class, A monthly book club, or a Social Walking Group) Please fill out this Class Proposal Form to share your idea with our Volunteer & Program Department.
Requirements: be trained / experienced /certified in the subject area, be reliable, and able to host the group or class for a minimum of 6 months.
Email: volunteer@genprideseattle.org if you have any questions