Newsletter March 11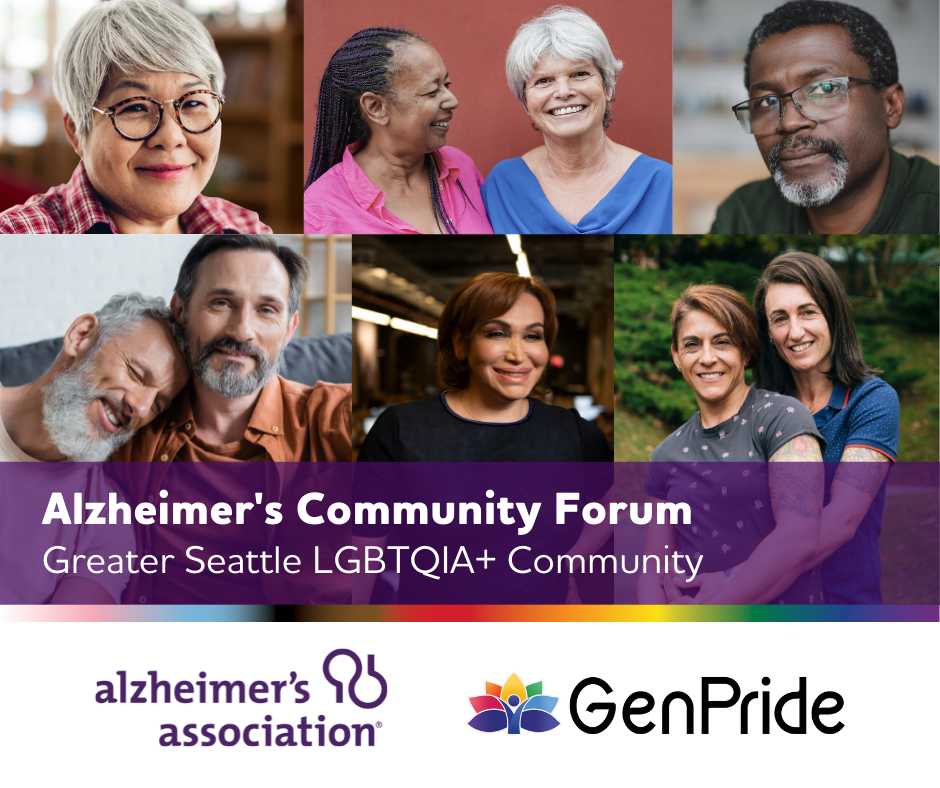 New Support Group for Alzheimer's Caregivers
Covid-19 Community Vaccination Event
GenPride at the Movies: The Power of the Dog
Intro to Qigong
T'ai Chi Chih Class
Yoga & Stretching
Strength & Balance
COVID-19 Updates on Masks
for Alzheimer's & Dementia Caregivers

GenPride and the Alzheimer's Association – Washington State chapter are partnering to offer a brand-new, monthly LGBTQIA+ affirming support group for caregivers of someone living with Alzheimer's or other dementia.

GenPride talked with one of the group's facilitators, Lionel Wang, about this free support group. With a small group format of two facilitators and 10 or less participants, Lionel says, "… the people who come to the group will determine what we discuss."

Since Alzheimer's is a progressive illness, the needs of people living with Alzheimer's change over time. As a caregiver, says Lionel, "…this can be a very lonely job or task. Having a support group can be a big relief."

According to Lionel, it's important for caregivers to be caring for themselves, too. "When they (caregivers) can take better care of themselves, they can provide better care to the person living with Alzheimer's."

With gay and lesbian co-facilitators, this is a welcoming and affirming group for LGBTQIA+ caregivers and those providing care to LGBTQIA+ elders living with Alzheimer's. "We wanted to provide a safe space," said Lionel.

Since the group is hosted on Zoom, folks from throughout the Northwest can attend, "You don't have to be living in Seattle," Lionel said, "because we're doing this meetup online."

This LGBTQIA+ Caregiver Support Group meets on the third Tuesday of each month from 6:30 – 8:00 pm. The next meeting is this Tuesday March 15.

To register or learn more, contact the facilitators:

Lionel Wang – 206.854.4776 | lionel.s.wang@gmail.com

Tiffany Suscheck – 614.719.9692 | tiffany@suscheck.com
Covid-19 Community Vaccination Event

Join the Korean Women's Association for a community vaccination event! Vaccination is free, no insurance is required. They will have all 3 vaccines (Moderna, Pfizer and J&J vaccines) at this event for anyone over the age of 5+ years old.

LOCATION: 31635 23rd Ave. S, Suite A, Federal Way, WA 98003 TIME: 4:00 PM – 7:00 PM

DATE: FRIDAY, MARCH 25, 2022

CALL KWA: (253) 946-1995 #2
On a Montana cattle ranch in the early 1900's, a domineering but charismatic ranch owner (Benedict Cumberbatch) wages a war of intimidation on his brother's new wife (Kirsten Dunst) and her fey & slender teen son (Kodi Smit-McPhee). Exquisitely filmed and touching on issues of manhood, cowboy culture vs. modernity, and the mythology of the American West, this epic by Jane Campion has been nominated for 12 Oscars, including Best Picture.

Come join us at our new showtime: 6:30 pm.
Join instructor Kimberly Ivy, founder of Seattle's Embrace the Moon Tai Chi and Qigong for a free, 10-week Qigong course. Qigong is a contemplative movement system that is one of the main branches of Chinese Medicine. (The others are Nutrition, Massage, Herbs, and Acupuncture.) There are many variations of Qigong and you've likely seen several of them being practiced in the parks or online.

No matter the method variety, all Qigong is a health system that helps us to understand Yin/Yang philosophy, meditation, breath, and movement. All these beautiful flows harmonize the body, mind, and spirit with nature and provide many health benefits. In just a short time of practice, you'll feel better all-around!

This course will cover fundamental methods of breathing, movement, and concentration. Between classes, you can practice with a video recording of that week's session. All ages and fitness levels are welcome!
Join our Winter 2022 series of free, online T'ai Chi Chih® classes for the LGBTQAI+ and gender nonconforming community and their allies.

T'ai Chi Chih is a slow-moving, meditative routine of 19 moves and one pose. Benefits include: reduced stress, increased energy and mental clarity, improved balance, flexibility, and overall well-being. Beginning and continuing students are welcome. The practice can also be done seated in a chair.

Join instructor Linda Robinson Thursday mornings for this

10-week series.
Experience with yoga or stretching is not required. This class is designed to be approachable by all populations, regardless of fitness level. Moves in class are broken down in a slow and manageable manner.

The intention of the class is to move a little and have a lot of fun – even if you don't perform each move perfectly.

Mondays, 11 am – 12 pm

Wednesdays, 3:30 – 4:30 pm

Fridays, 3:30 – 4:30 pm
Join us for this 40-minute movement-based class that integrates full-body strength, balance, and core-strengthening exercises.

Exercises will focus on strengthening the major muscle groups of the body in vertical and horizontal positions for strength and challenging our static and dynamic balance.

In this virtually taught class, we will use our own body weight using a chair for balance for support and a mat to aid various core strengthening exercises.
What's New:

Things are getting better! Statewide and county-wide mask requirements for most public indoor spaces in our state expire on March 12. Individual businesses and facilities may still require masks on their premises. Public transit, airplanes, healthcare sites, and long-term care facilities still require masks.

Limiting the threat of COVID is easy as 1-2-3:

1. Get your COVID-19 booster shot.

2. Mask-up in public, when recommended.

3. Test for COVID, if you get sick or exposed.

For free booster shots, contact your doctor or online:

https://vaccinelocator.doh.wa.gov/

Four King County libraries are also offering free COVID vaccines in south King County: kcls.org/vaccinated

For masks, wear a mask that filters and covers your nose and mouth whenever you're in public places. The most-effective, certified masks are: (in this order)

N95

…USA-made, behind-the-head straps

KF94

…Korean-made, over-the-ear straps

KN95

…Chinese-made, over-the-ear straps

If a mask gets torn or wet or its straps stretch out, dispose of it and use a new mask.

Some local pharmacies are distributing up to three free N95 masks to customers who need them.

Note: a cloth face mask alone is not effective against COVID.

For tests, you can order free, at-home rapid COVID test kits from the federal government at: covidtests.gov. Washington state also offers free at-home tests at: sayyescovidhometest.org.

More resources:

https://kingcounty.gov/depts/health/covid-19/current-guidance.aspx
Related